You Too Can Learn The 'Secrets' Veteran Candlemakers Use To Create Beautiful Artisan Candles For Fun or Profit
"The Candlemaker's Companion is your comprehensive, step-by-step guide to creating your own artisan-quality candles for fun and profit!"
Don't you just love the way candles make you feel when you walk into a softly-lit room — or the beaming smile on a loved one's face when they receive a beautifully-made candle as a gift?
Special times with special people – that magical, flickering flame illuminating a space and enlivening the senses.
When you make your own candles, you generate a connection with all the beautiful moments they inspire, which is why candle making is such an fun and absorbing hobby.
"It's so easy to lose track of time when you're totally immersed in your craft."
At least, that's what it's like for me now. While I'm considered somewhat of a candle making 'expert' these days, when I first started making candles over 8 years ago, it was a very different story.
Back then, there were no readily-available guides to follow, so if you wanted to make professional-quality candles, you were pretty much on your own.
Well, after a lot of research, trial-and error and collaboration with fellow candle makers, I gradually built up a body of knowledge on how to make – and sell – quality handcrafted candles – and I'm eager to share that knowledge with you!
In fact, I've compiled the sum total of my expertise, knowledge and experience into one handy desk reference called The Candlemaker's Companion.
Here is just some of what's contained inside:
First, You'll Discover Everything You Need To Know
To Make Beautiful, Fragrant Candles From Scratch
If you're like most people looking to make their own candles, you'll want to know a whole lot more than just how to stick a wick in some wax…
The Candlemaker's Companion contains an A-to-Z process for making candles from scratch.  Whether you're completely new to making candles or have some experience, you'll find everything you need to quickly get up to speed and amaze your friends… and yourself… with the exquisite creations you come up with.
Here's some of what you'll find inside:
Your "Getting Started" supplies list. I've included both the necessities, so you can get started quickly and easily, and a list of other supplies you may need as your interest and experience grows
A crash course in wick construction:

 

you'll learn about wick types, their unique features and most importantly, how to choose the

 

RIGHT wick

 

for the

 

RIGHT application

Informational profiles on container, molded, specialty, bakery, gel, and wickless candle designs
How the

 

four most common candle additives

 

will impact your final product to give you the desired result, every time
Key factors to consider when selecting candle wax

 

(the wrong wax will turn out more like "grey mush" than the fabulous creation you intended!)
The five critical questions

 

you need to ask and answer before you pour even so much as a single candle
How to conquer color blending

 

and create beautiful candles in every color of the rainbow – colors that are distinctly

 

yours
How to select the

 

best colorant

 

for your application
How to create an endless array of aromatic candles

 

by blending your own signature scents
The critical differences between

 

essential

 

and

 

fragrance oils: how to determine which one to use, and the cautionary measures you must know to avoid potentially catastrophic results
14 common candle making calamities, and how to quickly and easily remedy them – or avoid them in the first place!
Simple and elegant

 

wrapping and presentation tips

 

to add style and pizzazz to candle gifts
As you can see, The Candlemaker's Companion is a comprehensive "desk reference" with more than enough ideas and possibilities to keep you occupied for years!
And all this is just the beginning, because the next the component of The Candlemaker's Companion is devoted to transforming this fun and engaging hobby into an extra part- or full-time income, if you so choose.   Perfect for these tougher economic times…
How To Turn Your Candle Creations Into A Lucrative Second Income
Have you ever thought about taking your candle making hobby a step further and turning it into a useful second income or home business that you can easily run in your spare time?
You may be surprised just how large this industry already is:
According to The U.S. Market for Home Fragrance Products, the market for home fragrance products in the United States alone is projected to increase by 3% annually in the short term, with sales reaching $6 Billion by 2012.
Other countries such as Canada, the UK, Australia and New Zealand (and more) are experiencing similar growth rates as people seek refuge from the hurried, stressful pace of daily life with soothing relaxation products.
Why Shouldn't You Have YOUR Slice Of This Burgeoning Market, When Others Are Doing It So Easily?
The Candlemaker's Companion isn't just a candle making recipe book—it's also a thorough step-by-step guide to establishing a successful home-based business selling your own handmade candles.
From advice on choosing candle-making supplies to marketing tips and strategies, the Candlemaker's Companion is also a comprehensive guide to getting started in the business of making your own candles.
Here are just a few of the candle making secrets you'll gain access to inside the pages of the Candlemaker's Companion:
How to

 

make the transition from casual hobbyist to candle entrepreneur

 

without "stressing out" or losing a ton of cash
A no-fuss, no-fluff list of the absolute "must-have" supplies.

 

I've included only the necessities, so you won't need to raid Fort Knox to get your business off the ground! Add more supplies and reinvest your profits as your business expands
Pricing and cost calculation strategies for maximum profitability.

 

This single piece of information will save you hundreds, if not thousands of dollars
The single biggest mistake

 

that many novice candlemakers make that cripples the success of their venture before they've even sold their first candle
How to avoid common formulation errors, mishaps and mistakes that

 

waste money

 

and

 

gobble up the profit margins

 

of less successful candle makers
Tips, tools and templates

 

for tracking your supplies and expenses
How to quickly, easily and cost-effectively package your candles

 

to maximize customer appeal and profit
A glimpse into the future of the lucrative home fragrance market, giving you the inside track on industry developments that other candlemakers don't know are just around the corner
"Full of great how-to and lots of really great creative ideas"
The Candlemaker's Companion" is fantastic, full of great how-to and lots and lots of really great creative ideas. It has easy to follow instructions, so if you are just making candles for fun or business, this is a great investment. I will never regret my decision to purchase "The Candlemakers Companion" e-book. It is always right there on your computer for easy access.
"Brought the whole family together"
The Candlemaker's Companion" is a blessing, as I was looking for something to do with my children on weekends and this has actually brought the whole family together. When I started this it was with my daughter (9) but my older son has also gotten involved and found it fun. The kids look forward to every Saturday when we do this together, my daughter and I also do the lip gloss together and she loves it. Thanks so much, we now spend quality time together.
"I absolutely love it!"
I absolutely love the e-books I purchased from you! There are so many recipes that I didn't know where to begin. Thank you so much for all of the useful information that will surely turn my spa products from hobby to profit.
The Candlemaker's Companion Also Comes With A Treasure-Trove Of Bonus Resources And Reference Materials
Retail Selling Guide:

 

the most popular ways to get your name out to candle-loving customers.
You also get my very successful

 

PDF ORDER FORM

 

template that you can use for mail, fax or phone orders. Just copy and send so you can potentially start processing orders the very same day!
Bonus section on

 

how to sell on consignment

 

and in multi-artisan venues such as

 

markets and craft shows – PLUS

 

the questions you need to ask to determine if this method is right for you

 

BEFORE

 

you commit your time, money and effort.
Wholesale selling resources:  I share the

 

HOLY GRAIL of

 

wholesale tips with you – this little gem can land you wholesale inquiries the very first week! That isn't hype: I've seen it happen, time and time again – and it could be happening for

 

YOU!
Making Money Through Fundraising:  Let's face it – folks get tired of buying magazines and candy bars from school fundraisers.Instead of selling the same old magazines and candy bars for school fundraisers, offer your candles as an exciting alternative.  It's not hard and I show you how.

PLUS, I reveal 6 great sources to help you line up fundraisers in your local area. Very few people are doing this, which is why the space is wide open for you.

Home Party Sales Resources:

 

I'll show you the ropes for selling using the home party method – this format is not for everyone, but is a format that offers great rewards to those who master it.I even include a

 

Guest Order Form

 

and

 

Hostess Summary Form, so you can start filling up your calendar right away.
Sales reps who promote your products for you are great, if you know how and where to find a good one. Guess what?

 

I KNOW, and soon YOU will, too!

"A wonderful e-book"
I have found "The Candlemaker's Companion" a wonderful e-book full of inspiration and candle making ideas that I have not seen available in any other craft book or magazine.
"So much great information"
So much great information packed into one place. Whether you want something beautiful for a gift or to start your own business, this e-book has it all. I have enjoyed the wealth of knowledge and range of recipes when using the "Candlemaker's Companion". Definitely worth every penny. Thanks so much for sharing all this great knowledge.
So what's a fair price to pay for this one of a kind compendium of Candle Making Recipes, Resources and Proven Business-Building Strategies?
The Candlemaker's Companion is THE most complete guide to making candles for fun and profit on the Internet. It is definitely NOT a repackaged version of the same well-worn information you find lining the pages of eBay®.  In fact, the ONLY place that you can purchase this ebook is directly through this website. 
Now in its 3rd Edition, The Candlemaker's Companion has taken more than 115 hours to compile, edit, update, and format. It's also the result of years of "trial and error" experience that has gone into compiling the list of resources and essential suppliers you'll need.
Originally, I planned to sell The Candlemakers's Companion for $97 because it easily provides that much value when you consider that these recipes, techniques, templates, and contacts have taken years to compile.
But I also know that there are many keen hobbyists and other new people to the industry who may not want to invest that much to get started.
So I've decided to offer the complete Candlemaker's Companion Desk Reference for the very fair price of just $27.
So price shouldn't be an object – you'll save much more than the entire cost when you make your first batch of candles!  Not to mention the potential savings from making candles as gifts or spending an afternoon making candles with the kids…
Then there are the countless hours of time and effort you'll save simply by having ALL the information you need in one place.
So here's the 'bottom line': you NOT ONLY get a step-by-step guide to creating all kinds of fabulous scented candles in your own home … but you also get complete A-to-Z instructions for turning this into a lucrative business venture or second income!
"A goldmine of help including recipes, step-by-step instructions, pictures, and purchasing links"
I have nothing but compliments for your ebook The CandleMaker's Companion. It was a goldmine of help including recipes, step-by-step instructions, pictures, and purchasing links. I also got the HandCrafter's Companion. Again, you didn't disappoint. Thank you sooo much.
"A world of new information and would highly recommend it"
Although I've been making candles for five years, I decided to purchase CandleMaker's Companion. I couldn't be more pleased with my decision. I picked up a world of new information and would highly recommend it to anyone making candles.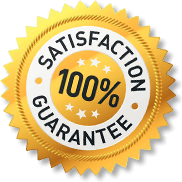 "Don't Say 'Yes' Right Now, Just Say 'Maybe', and Try Out The Candlemaker's Companion for a FULL 60 Days, Entirely At My Risk"
I'm so convinced that you'll enjoy reading The Candlemaker's Companion and creating your own fabulous products that this product comes with a comprehensive, no-questions-asked 60-day Money Back Guarantee.
Here's how it works: download your copy of The Candlemaker's Companion today and start making your own luxurious fragrant candles immediately. Try all the recipes and get all the background information you need to make your hobby or candle business thrive (or decide whether or not you want to get into making candles in the first place).
After you've thoroughly vetted The Candlemaker's Companion at your own pace, if you're not totally satisfied with your purchase, simply send one email within 60 days of purchase for a prompt and courteous refund.
In fact, the entire refund process is handled by ClickBank, the world's largest secure payment processor for ebooks. I don't have any say in the matter—if you want a refund, you'll get it—promptly and with no fuss. (Although I should also add that the refund rate is less than 4%. Customers love The Candlemaker's Companion!)
To sum up: there is no risk! You either love the Candlemaker's Companion or get a full refund!
Download Your Copy of The Candlemaker's Companion
Right Now For Only $ 27 and Start Making Your Own
Gorgeous Candles, For Fun Or Profit!
Available for Immediate Secure Download – even if it's 2 am!
Let's Make It Even Easier For You To Try The Candlemaker's Companion Today
To make this an even better deal and remove the last bit of doubt that you may be feeling, I've included these additional free bonuses that you will also get when you get this product today:
---
4 Printable Color Charts (Value $27)
For many years, these were my closely guarded secrets… four A4 size color charts that condense complex "color theory" into a practical, easy-to-use format that you can use to create your own unique shades and hues that copycats can't quite match. Previously, I only made these available to my private clients. Now that I'm not accepting any more private clients, I've decided to include them as a bonus.
---
Bonus Resources Guide (Value $19)
You won't need to waste time searching out the best sources for every conceivable type of wax, wicks, labels, colorants, glassware, fragrances, or other supplies.  This comprehensive Bonus Resource Guide will save you countless hours of time and research — leaving you more time to CREATE!
I have ALSO researched and included another 50 resources from my personal rolodex.  For example, where to go for:
Creative Promotional Tools
Intellectual Property representation—filing Trademarks
Stock Photo Sites
Online Shopping Cart Services
Credit Card Processing Services
Mailing List Brokerage Services
Toll-Free Phone Services
Sales Representation
Wholesale Promotional Services
Translation Services
Digital File Delivery Services
And much, much more!
Sure, you may be able to find some…or maybe even all of these resources on your own — but it would take you weeks (maybe even months) to do that.
And along the way, you would no doubt go with a few untested suppliers that don't deliver the right product or mess up your order.
Why waste time that would be FAR better spent making and marketing your products? Simply point and click.
---
"How To Make Custom Candle Molds" E-Book (Value $19)
The key to making fabulous candle creations that "WOW" both your friends AND your customers is being able to do things that others can't.
Using the techniques and secrets you find in The Candlemaker's Companion, you'll not only be able to come up with unique color and fragrance combinations but using this bonus you'll also be able to create your own custom molded shapes.
This puts your candles completely in a class of their own! Your friends and family will love your creations and your customers will "just have to have" the wonderful designs you come up with.
The Candlemaker's Companion offers the novice or experienced candle enthusiast the tools needed to create a wide variety of candle products.  The formulation and business-building advice alone is worth the price of this incredible collection — but with the $65 worth of FREE BONUSES, plus my Unconditional 60-day Money Back Guarantee if you're not totally happy, this should be a very easy decision to make.
You'll have everything you need to begin making wonderfully fragrant candles for fun, friends, family, or profit! Click below to download The Candlemaker's Companion and all your bonuses right now for ONLY $27.
Gain Instant Access Now to
The Candlemaker's Companion
(Plus $65 Worth Of FREE Bonuses)
For Just $27
Available for Immediate Secure Download – even if it's 2 am!
Your order & privacy is secure & fully guaranteed by ClickBank
I know you'll enjoy The Candlemaker's Companion and have a lot of fun creating your own artisan candles for fun or profit. Gain instant access today to get started.
To your success!

Jane Church
Candle Making Queen
CandlemakersCompanion.com
P.S. After you download the Candlemaker's Companion, you could be making your own candles in as little as a few hours (or if you have to order in some ingredients, a few days).
If you have any pre-purchase questions, take a look at the Frequently Asked Questions page. If you still can't find the answer you're looking for, contact me and I will get back to you within 48 hours with a personal response.
"I love the Candlemaker's Companion"
I love the Candlemaker's Companion. It is so well done. You explain everything from making to selling, I couldn't ask for anything more. It's easy to read and your information on the wax, wicks, containers is so helpful that makes creating the candles fun. The added bonus of your information on starting your own business makes me really want to get busy and start making and selling. Thank you and I can't wait for your next project.
"It's like I've been making candles all my life… you must get it"
I had never made a candle ever before in my life and since I purchased your candle guide it's like I've been making candles all my life. To all your fans, friends, and potential customers, if you don't have The Candlemaker's Companion you must get it.