You Too Can Learn The 'Secrets' Professional Spa Owners Use To Create Luscious Bath Bombs, Soothing Creams, and Aromatic Fragrance Products
The Handcrafter's Companion is your comprehensive, step-by-step guide to creating your own spa-quality products, for fun and profit!
From pampering bath treatments to rich, soothing creams and butters and aromatic home fragrance products — The Handcrafter's Companion is a priceless reference collection of product recipes designed to create a relaxing spa atmosphere in your own home.
Don't you agree that the hurried, stressful pace of your daily life often makes it difficult to find ways to relax? Like many people, you seek to create a restful retreat in your home — one in which you can relax and rejuvenate your mind, body, and soul.
The spa industry is the fourth largest leisure industry in the United States and continues to be highlighted in movies, television, articles, and advertising. All of these factors have combined to make the spa experience more mainstream — and growing numbers of consumers are looking to add the spa experience to their everyday lives.
If you are looking to capture your slice of the lucrative spa market,
you will need a firm foundation of products to build your line — soothing bath
salts, exfoliating body scrubs, moisturizing body lotions, and balms —
just to name a few…
If you want to save money by learning how to make your own
recipes, suppliers, and step-by-step instructions to get you started quickly and easily…
Or if you want fresh ideas for this fun and creative hobby, and potions you'll find them in The Handcrafter's Companion. This handy reference collection of product recipes, references, and ideas has been lovingly compiled over several years by fellow spa product enthusiasts — you won't find this information anywhere else on the Internet!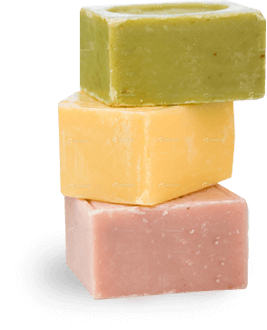 Discover how to make soap and create your own pampering bath and body products and transform your home into your own luxurious spa oasis!
The Handcrafter's Companion Contains More Than 126 Step-By-Step Product Recipes (Plus Many Other Professional 'Secrets')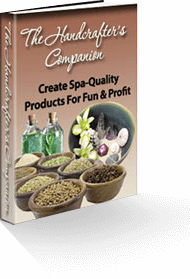 Inside the pages of The Handcrafter's Companion you'll discover an incredible collection of more than 126 spa product recipes that you can use "as is" or easily adapt to your own needs!
Change the essential oils, add fragrant herbs or other ingredients, or use as provided.
It's entirely up to you — the possibilities are limited only by your imagination!
How to make homemade soap, bath salts, and body butter with easy recipes
This unprecedented collection contains extensive product formulations, plus invaluable resources, information and advice on branding, packaging, marketing and more!
Within the pages of The Handcrafter's Companion, you'll discover a wide assortment of spa product recipes, as well as additional resources including our handy conversion calculators, packaging templates, a "cheat sheet" of commonly-used potpourri botanicals and marketing ideas.
Handcrafted Soap Making – how to make soap from classic recipes to deliciously different versions that you, your family and friends will adore!
Bath Teas, Additives & Soaks – sink into a hot, fragrant bath and soak away all your cares with these original 'secret' recipes.
Spa Treatments – professional-quality treatments that you create yourself for pennies on the dollar.
Bubble Baths & Bath Bombs – if bubbles are your thing, you'll adore these new variations.
Butters, Balms, Lotions & Creams – Body butter recipes to add deep moisture to your skin and luxury to your life!
Scrubs, Polishes, Salts & Masques – how to make bath salts and still more variations to add variety and build your line (and make your skin glow!)
Home Fragrance Products – beautiful fragrance ideas you can adapt to suit your tastes and mood.
Potpourri and Sachets – including a comprehensive ingredient list that you can simply "mix and match" to create a virtually unlimited number of flavors.
Aromatherapy Blends – soothing… relaxing… invigorating… revitalizing… you decide – with your own range of professional aromatherapy blends.
As you can see, The Handcrafter's Companion is a comprehensive "desk reference" with more than enough ideas and possibilities to keep you occupied for years!
Sure, you can find soap and spa product recipes for "free" on the Internet, but you'll NEVER find anything like this rich collection of hand-picked recipes and original ideas that has taken years of experience and dozens of hours to compile and edit.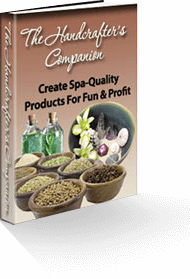 Click here to download your copy of The Handcrafter's Companion now
And just in case these 126 detailed recipes and ingredient lists aren't enough…
The Handcrafter's Companion Also Comes With A
Treasure-Trove Of Bonus Resources And Reference Materials
Tips & Tools for Getting Started – a "quick start" guide for the complete beginner
Keeping Your Work Area Clean and Sanitized – detailed instructions for keeping impurities out of your workspace and products.
Cautionary measures when working with spa product ingredients – this vital information will help keep you and your loved ones safe from certain common ingredients that can be dangerous if consumed or handled improperly.
How to Label Your Products Properly to comply with both FDA regulations and the expectations of your customers.
Creating Your Total Brand Image – branding is one of your biggest opportunities to create a unique identity for your products — you get vital tips on what to do… plus common "Branding Blunders" you must avoid at all costs!
Picking a Color Scheme – every color has a very specific effect on the emotions – this easy explanation makes it simple for you to choose the right color scheme to reflect your brand image.
How to Make Packaging Work for You – how to source spa product packaging that looks professional and doesn't cost the earth!
Calculating your costs for maximum profitability – if you're creating products for sale, the wrong pricing can sink you before you know it. I show you how to calculate your costs and set prices that allow you to turn a profit and grow your income.
22 Low Cost & No Cost Promotional Ideas for promoting your products on a shoestring budget while you get established.
Source and Supply Lists — my "Rolodex" of industry suppliers, including exactly where to source raw materials, packaging, labeling and other essential materials…
"I made products for friends…they loved them!"
I have really enjoyed the ebook that I purchased from you. I immediately printed it out and placed it in a binder for easy access to make those fantastic products.
I also am very pleased with the bonus ebook for lip gloss recipes. It was a great investment and thank you for the additional information that you included that is very helpful. I made some of the products for some friends and they loved them. Thanks again.
"Making my own products is a success"
Thank you for all the information, recipes, and resources you have made available. They have given me hundreds of ideas. With well-written directions and the availability of products making my own products is a success. I also learned how to make body butter and got some bath salts ingredients too!
So what's a fair price to pay for this one-of-kind Compendium of Spa Product Recipes, Resources, and Business-Building Ideas?
The Handcrafter's Companion
is THE most complete guide to creating spa products for fun and profit on the Internet. It is definitely NOT a repackaged version of the recipe guides you find lining the pages of eBay®. In fact, the ONLY place that you can purchase this ebook is directly through this website.
Now in its 3rd Edition, The Handcrafter's Companion has taken more than 145 hours to compile, edit, update, and format. It's also the result of years of "trial and error" experience that has gone into compiling the list of resources and essential suppliers you'll need.
Originally, I planned to sell The Handcrafter's Companion for $69 because it easily provides that much value when you consider that these recipes, techniques, and contacts have taken years to compile. But I also know that there are many keen hobbyists and other new people to the industry who may not want to invest that much to get started.
So I've decided to offer the complete Handcrafter's Companion Desk Reference for the very fair price of just $27.
So price shouldn't be an object – you'll save much more than the entire cost when you make your first batch of product! Not to mention the hours of time and effort you'll save simply by having ALL the information you need in one place.
So here's the 'bottom line': you NOT ONLY get a step-by-step guide to creating all kinds of fabulous spa products in your own home … you also get complete A-to-Z instructions for turning this into a lucrative business venture or second income!
"The price is so small to pay for so much fun…"
I am having a ball with The Handcrafter's Companion, making all sorts of things for friends. I have used my friends and family to try out the products I've made and they have been absolutely delighted – I'm now busy packaging items for Christmas baskets.
The price is so small to pay for so much fun, I'm thoroughly enjoying working my way through the recipes and then adjusting them to my own design. I really wish I had started this years ago.
Thank you soooo much, I continue to have fun thanks to your Handbook.
"Your own desktop consultant…"
Many of my questions were answered when I received my copy of the ebook. I am so glad I ordered it. The recipes are great, and the sales and marketing tips saved me from making several costly mistakes. It has been like having my own desktop consultant to refer to. I finally printed out the book so I could put it in a binder. I can see that I will be referring to it often. Keep up the good work!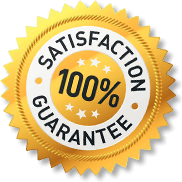 "Don't Say 'Yes' Right Now, Just Say 'Maybe', and Try Out The Handcrafter's Companion for a FULL 60 Days, Entirely At My Risk"
I'm so convinced that you'll enjoy reading The Handcrafter's Companion and creating your own fabulous products that this product comes with a comprehensive, no-questions-asked 60-day Money Back Guarantee.
Here's how it works: download your copy of The Handcrafter's Companion today and start making your own luxurious spa products immediately. Try the recipes and get all the background information you need to make your hobby or spa products business thrive (or decide whether or not you want to get into making soaps and spa products in the first place).
After you've thoroughly vetted The Handcrafter's Companion at your own pace, if you're not totally satisfied with your purchase, simply let me know via email within 60 days of purchase for a prompt and courteous refund.
In fact, the entire refund process is handled by ClickBank, the world's largest secure payment processor for ebooks. I don't have any say in the matter – if you want a refund, you'll get it – promptly and with no fuss. (Although I should also mention that the refund rate is less than 3%. Customers love The Handcrafter's Companion!)
To sum up: there is no risk! You either love The Handcrafter's Companion or you get a full refund!
Download Your Copy of The Handcrafter's Companion Right
Now For Only $27 and Start Making Your Own
Gorgeous Spa Products, For Fun Or Profit!
Available for Immediate Secure Download – even if it's 2 am!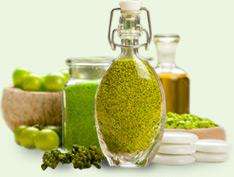 Let's Make It Even Easier For You To Try The Handcrafter's Companion Today
To make this an even better deal and remove the last bit of doubt that you may be feeling, I've included these additional free bonuses that you will also get when you order.
---
Bonus Resources Guide (Value $19)
You won't need to waste time searching out the best sources for raw materials, packaging, or other supplies This comprehensive Bonus Resource Guide will save you countless hours of time and research — leaving you more time to CREATE!

---
The Lip Balm and Lip Gloss Handbook (Value $19)
The fantastic Lip Balm & Lip Gloss Handbook includes 29 formulations to keep your lips soft, supple, and completely kissable! This Handbook is YOURS FREE with your Handcrafter's Companion purchase.

---
Special Reports: Making Basic Potpourri and Lovely Potpourri Recipes (Value $23)
Even if you're a total beginner, these Special Reports will have you making colorful, fragrant potpourri creations before you know it! Making Basic Potpourri will get you up and running with the basic techniques and Lovely Potpourri Recipes will help you create endless variations.
The Handcrafter's Companion
offers the novice or experienced home crafter the tools needed to create a wide variety of skin-pampering products. The recipes themselves are worth the price of this incredible collection — but with the
$61 worth of FREE BONUSES
, plus my
Unconditional 60-day Money Back Guarantee
if you're not totally happy, this should be a very easy decision to make.
You'll have everything you need to begin making pampering products for fun, friends, family, or profit! Click below to download The Handcrafter's Companion and all your bonuses right now for ONLY $27.
Gain Instant Access Now to The Handcrafter's Companion
(Plus $61 Worth Of FREE Bonuses) For Just $27
Available for Immediate Secure Download – even if it's 2 am!
Your order & privacy is secure & fully guaranteed by ClickBank
I know you'll enjoy
The Handcrafter's Companion
and have a lot of fun creating your own spa-quality products for fun or profit. Gain instant access today to get started.
To your success!

Jane Church
Spa Product Queen
HandcraftersCompanion.com
P.S. After you download this invaluable desk reference, you could be making your own fresh creations in as little as a few hours (or if you have to order in some ingredients, a few days).
If you have any pre-purchase questions, take a look at the Frequently Asked Questions page. If you still can't find the answer you're looking for, contact us and we will get back to you within 48 hours with a personal response.
Thanks, JC.