Would your website and/or social media visitors be interested in my guide, The Handcrafter's Companion? Then let me pay you $17.83 for every sale you refer from your site…
When I started making my own soaps and body products I immediately noticed the difference in my health – my skin, my hair, my nails all felt and looked better. Friends loved my products and asked me to write the book – so I did! I couldn't believe the feedback from people – not only is my product healthy, it's just fun to make stuff with friends and family!
I was asked several times by my online customers if I had an affiliate program so they could promote me on their blog or website.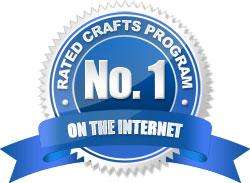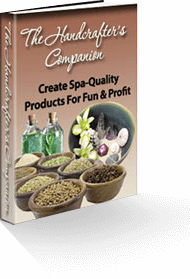 It was easy to set up at ClickBank, and within a few months,
The Handcrafter's Companion
became the most popular bath and body guide online, thanks to my amazing affiliates!
The Handcrafter's Companion is the top-selling ebook in the "Craft" Category on ClickBank! [Click to see proof]
It's easy to become an affiliate – just create an account at ClickBank add our program!
We give you banners, suggested links, Pay Per Click ad suggestions, and personalized assistance when you need it.
Because I recognise the great contribution our affiliates make, I pay you 66% commission on every sale. One sale earns you $17.83.
It really is too simple.
Affiliate Program Details
This site uses industry leader ClickBank's advanced affiliate program to track all your referrals and see that you get paid at the end of each month. ClickBank tracks your unique affiliate URL and sends you a check (or direct deposit into your bank account) every month based on the number of people you refer – you can promote other programs too with the same account!
How much can you make selling the Handcrafter's Companion?
You will get paid $17.83 per sale for every person you refer to The Handcrafter's Companion – we pay you a rate of 66% payout level, one of the highest rates allowed by ClickBank.
Let's see an example of how this works:
• You send 100 members to this site.
• Let's assume that 5% buy the offer.
• That would make 5 x $17
• That means you would earn $85 in commissions, sent to you as a check.
$85 (or more) For Sending Only 100 People To Us!
Try the numbers yourself … it costs nothing and you could be live in less than 30 minutes!
Here's What To Do Now To Start Promoting and Earning Referral Commissions…
1. Signup
2. Add our Program.
3. Select Banners or Links.
4. Add banners or links to your site (or promote using other methods such as pay per click)
5. Watch your stats and earnings grow!
> Click here to signup in less than 5 minutes
Custom Promotional Tools
As part of our added commitment to partner with you, we offer a 'custom promotional tools' service, where we help you optimize the advertising space on your website by designing banners exclusively for you.
Don't forget, you can contact my support team anytime to discuss how to promote The Handcrafters Companion on your website or in your mailing list.
All the best,


Jane Church
HandcraftersCompanion.com